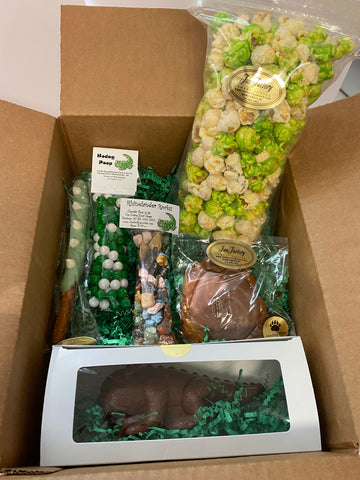 Hodag Gift Box
$24.99
Contains the following items, no substitutions available: Solid Chocolate Hodag, Hodag Paw, Rhinelander Rocks, Hodag Poop (Sixlets), Hodag Tail Pretzel Rod, Rhinelander Custom Popcorn. This package is valued at $32!

Product may not be immediately available, please allow up to 14 days for shipping. If Local Pickup is selected, customers will be notified when orders are ready. Photo ID and Order Number will be required to collect your order at Fun Factory Sweet Shoppe, 229 North Brown Street, Rhinelander, WI 54501. No exceptions please.

For special orders with larger quantities of this Gift Box or other custom assortments, please contact us for personal assistance at funfactorysweets@gmail.com or 715-369-3451.